University Hospital Leadership
Upstate University Health System Leadership
Upstate University Hospital has two campuses—the Downtown Campus, and four miles west of downtown Syracuse, its Community Campus. Hospital leadership oversees all aspects related to patient care at Upstate's hospitals and at its more than 80 specialty clinics. Upstate University Hospital's 17-county service area covers approximately one-third of New York State.
The Upstate Health System Leadership Committee
Steven Scott, MPH, FACHE
Interim Chief Executive Officer of Upstate University Hospital
Mr. Scott oversees the entire operation of Upstate University Hospital sites and has ultimate administrative responsibility for the Hospital and its ambulatory sites. Hospital COO, CAO CNO, CFO, Medical Director & Chief Quality Officer, the Senior Associate for Community Programming and Development and the Institutional Compliance Officer report directly to him.
Anthony Weiss, MD MBA
Chief Medical Officer,
Upstate University Hospital
Associate Dean for Clinical Affairs at Upstate Medical University
Dr. Weiss is a physician-executive who oversees a number of key clinical initiatives including efforts to promote patient experience and ensure quality of care hospital-wide.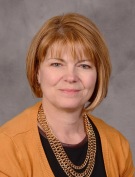 Nancy Page
Chief Nursing Officer

Ms. Page provides executive leadership in the Department of Nursing to promote excellence in nursing practice, professional education/staff development, and research activities. She sets standards and expectations for collaboration and teamwork by promoting an atmosphere of trust and respect.
Stuart M. Wright
Chief Financial Officer

Mr. Wright is responsible for all financial functions of the hospital including accounting, purchasing, cash management, budgeting, billing and revenue cycle, and managed care contracting. Additionally, he is responsible for patient access areas and central distribution.
Terry Wagner
Chief Information Officer

Ms. Wagner is responsible for planning, implementation and management of information management technology throughout the university in support of the missions of patient care, education and research. She also oversees health information management and clinical engineering for the hospital.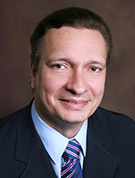 Julio Licinio, MD, PhD
Dean, College of Medicine
As senior vice president and dean, Julio Licinio, MD, PhD, oversees the academic activities of the basic and clinical science departments, including education (degrees offered include MD, MPH, MD/PHD) and research in the College of Medicine.
Nancy Daoust, CAO
Chief Administrative Officer
Upstate University Hospital Community Campus
In her role as CAO, Ms. Daoust has administrative responsibility for the Community Campus, which includes clinical, operational, and financial oversight.
Robert J. Marzella, MHA, FACHE
Chief Operating Officer
Upstate University Hospital Community Campus
In his role as COO, Mr. Marzella is responsible for the day-to-day activities of the hospital's administrative operations.  He is also responsible for ensuring that the hospital's strategic initiatives are carried out and reinforced through daily activities.